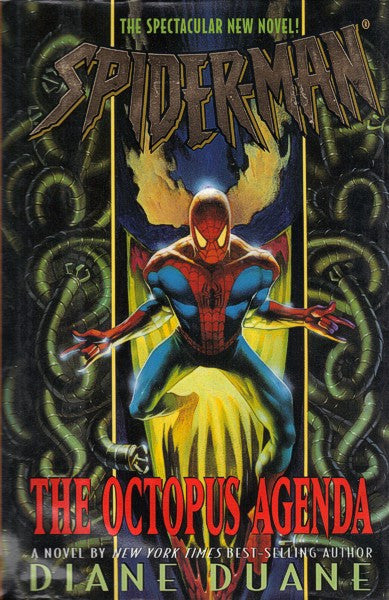 This is DD's third Spider-Man novel, published in 1996 by Boulevard/Putnam in association with Byron Preiss Multimedia.
The copies offered here are the final mint/new copies remaining anywhere: all online and other sales sources have long ago exhausted their inventories. All our copies are signed and personalized to the purchaser's request by the author. Shipping costs will be calculated separately on this item.
Please note that this product is not available as part of any discount offer running at the store at this time. If included in an order that also contains discounted ebook items, the discount will not apply to this hardcover.
We ship from our home base in Ireland once a week (normally on Wednesdays) and use only registered mail, to make shipping losses less likely. Tracking info will be emailed to you the day after shipping* and posted to Aftership.com so that you can check your package's progress with them.
Thanks for your interest!
*This prevents "false positives" from the tracking app that could make you think the package was being delivered to you that day when it was actually just in transit to the international mail sorting center in Dublin.