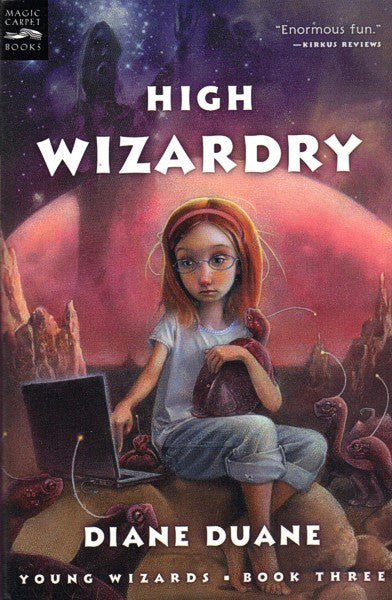 This is Harcourt Trade Publishers' 2005 digest-format paperback edition of High Wizardry. The cover art us by Greg Swearingen.
Like all our other offerings, this book will come to you signed and personalized by the author.
Please note that the term "digest" refers only to the physical configuration of the book -- a squarer, thicker format than mass market paperbacks. This edition of High Wizardry has not been abridged or condensed in any way: it contains the novel's complete, unedited text.
These copies of High Wizardry are the last of the publisher's stock, and are the final mint-condition copies available.
WHEN YOU ORDER: please make sure you specify in the "notes" field of your order how you wish your book signed / personalized, as we cannot ship your book without this information! 
We ship once a week (normally on Wednesdays) and will email you your tracking information as soon as the item is shipped. After that, Aftership.com will notify you by email when there are changes in the status of your order (in transit, out for delivery, attempted delivery).
Please note that autographed books cannot be returned.