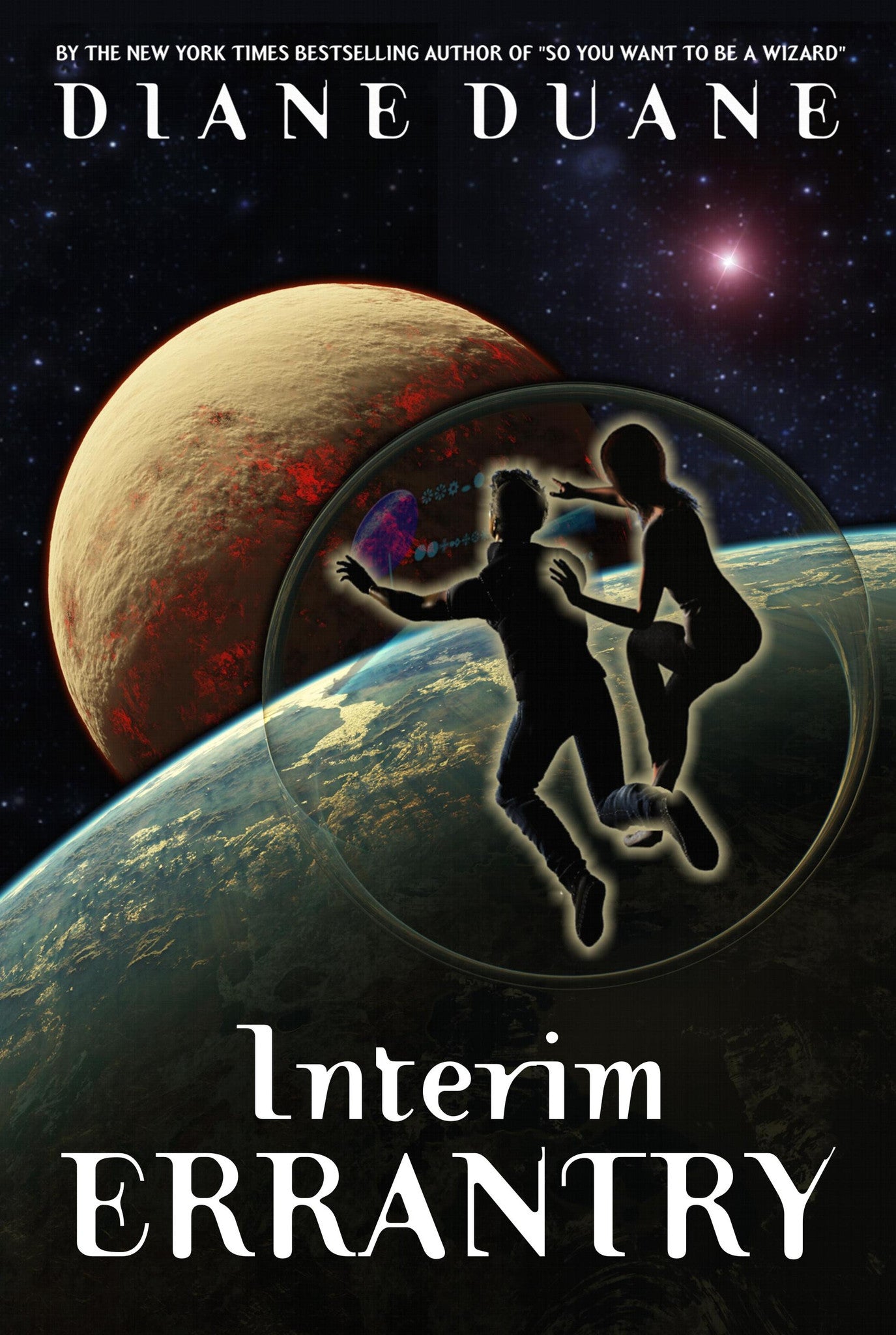 Sale
These books have slight irregularities in the printing of the dust jacket (the spine printing is slightly too narrow, with about 2mm of the back cover showing on the spine). They are otherwise perfect and in mint condition . If you'd like one of these, signed and personalized as usual, we've knocked about 30% off the price. 
This hardcover first edition of Interim Errantry comes to you signed and personalized by the author. 
What happens between book 9 of the Young Wizards series, A Wizard of Mars, and the forthcoming book 10, Games Wizards Play? Diane Duane answers the question in this volume, collecting together the three canonical works that constitute a "transitional trilogy" between books 9 and 10 -- a 150,000-word extravaganza of untold tales to help keep you going until the tenth book comes out in February 2016.
Interim Errantry contains:
The novella Not On My Patch, the tale of an unusual Halloween in the Young Wizards' neighborhood, featuring overage Trick Or Treating, suburban zombies, and the Attack of the Killer Pumpkins.
The novelette How Lovely Are Thy Branches, a holiday-themed Young Wizards story in which an alien wizard who looks a lot like a Christmas tree gets the gift he wants most -- decorations -- and a memorable party and sleepover are slightly disrupted by a superblizzard and an incursion of otherworldly ghosts.
And finally, the new original Young Wizards novel Lifeboats, the tale of a distant world threatened by unavoidable doom, an intervention that takes thousands of Earth's wizards, young and old, into harm's way, and a Valentine's Day that absolutely doesn't go as planned...
So settle down with a pumpkin spice latte (or a hot cocoa, or even just some tea and saltines...) and get ready to enjoy the highlights of autumn 2010 and winter 2011 in the Young Wizards universe!
Purchase and shipping info: This item ships direct to you from the author in Ireland. Our purchase price is a significant discount on Lulu.com's suggested list price ($41.99). Your book will be signed and personalized to you (or the person of your choosing) by the author. The purchase price also includes a $10.00 packing and handling charge -- the price of packaging and the cost of getting the book to our local PO (which means a USD $50.00 cab ride for us, unfortunately: your package will be ridesharing with others).
The cost of shipping via registered post from Ireland to your location will be added by the store during checkout.
If you have any questions, please query DD directly at diane.duane.ebooksdirect@gmail.com and she'll get you sorted out.
Thanks!
*We don't offer "standard post" rates on our books as they've proven in the past to be insecure. Registered post is trackable, and stays under lock and key from our post office to yours.
Save
Save